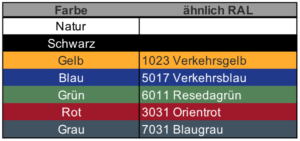 Cast Nylon is a thermoplastic material, that is made with anionic block polymerization. This plastic product bases on the raw material "Caprolactam". By adding the activator and catalyst to the monomer caprolactam, a chemical reaction takes place – the polymerization. A physical process takes place at the same time -the crystallisation. The result is a highly molecular and highly crystalline nylon.
Due to the non-pressurized manufacturing process almost no internal stresses, which allows extensive possibilities of shaping. Polyamide is one of the most versatile construction materials and is now used successfully in many areas as a substitute for aluminum, bronze or steel.
Depending on the application, the already good material characteristics of nylon can be optimized by modification of the standard material.These include the addition of oils, MOS2, heat or thermal aging stabilizers, and additives for improving the impact resistance.
| Bezeichnung | Beschreibung | Farben | Eigenschaften |
| --- | --- | --- | --- |
| PA 6G | Cast nylon | all available colors | good mechanical strength, stiffness and hardness |
| PA 6G GOL | Cast nylon with Oil-Additives | all available colors | good slide properties, high abraision resistance |
| PA 6G with MOS2 | Cast nylon with MOS2-Additive | black | good slide properties, high abraision resistance |
| PA 6G GW (brown, black) stabilized | Cast nylon with heat stabilizor | brownish, black | heat stabilized, UV-resistance improved |
| PA 6G HI | Cast nylon high impact | all available colors | high impact resistance |
| PA 6G GPE | Gusspolyamid mit Festschmierstoff | all available colors | good slide properties, high abraision resistance |
| PA 6G Kalander C | Cast nylon for calandering Applications | natural, black, blue | calandering quality |
| PA 6G FG-Natur | Cast nylon with Foodgrade-Certificate EU10/2011 | natural | Foodgrade-Certificate EU10/2011 |
| PA 6G FG-Blau | Cast nylon with Foodgrade-Certificate EU10/2011 | blue | Foodgrade-Certificate EU10/2011 |